---
Dental braces (also known as orthodontic braces, or simply braces) are a device used in orthodontics to align teeth and their position with regard to a person's bite. They are often used to correct malocclusions such as underbites, overbites, cross bites and open bites, or crooked teeth and various other flaws of teeth and jaws, whether cosmetic or structural. Orthodontic braces are often used in conjunction with other orthodontic appliances to widen the palate or jaws or otherwise shape the teeth and jaws. While they are mainly used on children and teenagers, adults can also use them.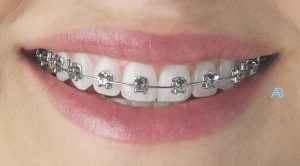 Types and Varieties of braces:
Traditional braces are stainless steel, sometimes in combination with nickel titanium, and are the most widely used. These include coventional braces, which require ties to hold the archwire in place, and newer self-tying (or self-ligating) brackets. Self-ligating brackets may reduce friction between the wire and the slot of the bracket, which in turn might be of therapeutic benefit.
"Clear" braces serve as a cosmetic alternative to traditional metal braces by blending in more with the natural color of the teeth. Typically, these brackets are made of ceramic or plastic materials and function in a similar manner to traditional metal brackets. Clear elastic ties and white metal ties are available to be used with these clear braces to help keep the appliances less conspicuous. Clear braces have a higher component of friction and tend to be more brittle than metal braces. This can make removing the appliances at the end of treatment more difficult and time consuming.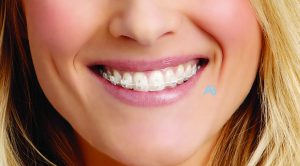 Gold-plated stainless steel braces are often employed for patients allergic to nickel (a component of stainless steel), but may also be chosen because some people simply prefer the look of gold over the traditional silver-colored braces.
Lingual braces are fitted behind the teeth, and are not visible with casual interaction. Lingual braces can be more difficult to adjust to, since they can hinder tongue movement.
Progressive, clear removable aligners (one example of which is Invisalign) may be used to gradually move teeth into their final positions. Aligners are generally not used for complex orthodontic cases, such as when extractions, jaw surgery, or palate expansion are necessary.
A new concept under development is the "smart bracket." The smart bracket contains a microchip capable of measuring the forces applied to the bracket/tooth interface. The goal of this successfully demonstrated concept is to significantly reduce the duration of orthodontic therapy and to set the applied forces in non-harmful, optimal ranges.
---